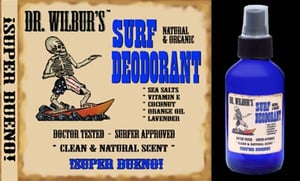 $

10.95
Dr. Wilbur's surf deodorant uses all natural and organic anti-microbials and pure sea salts to destroy the unwanted colonies living in your paddle hinges - and keep them gone - leaving a great beach scent. Great for gents and gals.
Just spray it on, and when it evaporates, it's just you and your skin, fresh and clean.
Ingredients: Natural Sea Salts, Alcohol, Natural Vinegar, Natural Coconut Glycerin, Organic Aloe, Natural Vitamin E, Organic Chamomile and Organic Fragrance
4 oz. of deluxe spray
Excellent perk: A couple sprays makes an awesome bathroom air freshener.