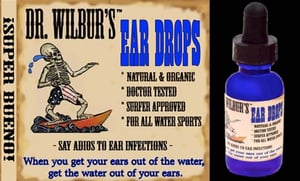 $

8.95
If you've had an ear infection, you know it's one of the worst things ever - pain, vertigo and no water sports until it's gone. If you've never had one, you never need to.
Dr. Wilbur's ear drops are made with the finest organic and natural ingredients. Just a few drops in each ear when you get out of the water and you can say Adios to ear infections, swimmer's ear and that uncomfortable "water in the ear" feeling. When you get out of the water, get the water out of your ears.
Also, perfect for the grommets (kids).
Ingredients: Isopropyl Alcohol, Natural Coconut Glycerin, Natural Vinegar, Organic Aloe, Organic Chamomile, Organic Fragrance
1oz. of deluxe drops